Fast & Free Worldwide Delivery
|
Free Gift Wrap & Free UK Returns
|
SHOP THE 30% SALE
|
SHOP NEW IN
DECO, NAVETTE, SOLITAIRE OR BYPASS?
UNDERSTANDING RING STYLES
Vintage rings are perhaps the most romantic and meaningful items of jewellery, and they also happen to be our passion here at Chains of Gold. Below we walk you through some of the classic ring styles, their history and their hidden meanings.
Art Deco Rings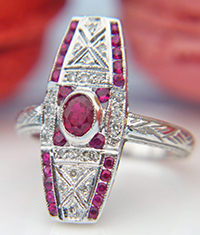 Change spread quickly through Britain after the First World War and its influence was felt everywhere, including jewellery. Fauvism, Cubism and the early work of the Vienna Secessionists meant that geometric lines and linear expression were quickly adopted into jewellery and fashionable couture. Bold, decisive stones such as Burmese rubies, sapphires and Colombian emeralds were cut and polished into sleek geometric shapes and set into architectural frames completely devoid of unnecessary embellishment. The baguette cut diamond and the calibré cut ruby, sapphire or emerald were typical of this era. The success of well-known jewellery houses Cartier, Boucheron and Van Cleef & Arperls was built upon 1920s-1930s Art Deco jewellery.
Shop for a Art Deco Rings
Three Stone Rings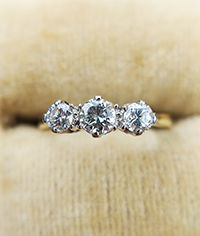 The past, the present and the future. Nothing quite says 'forever' like the three stone trilogy ring. Traditionally set with graduating diamonds or diamonds mixed with other precious gemstones, these rings have been popular for hundreds of years. They remain a classic and sought-after style to the modern day, and are often gifted both as an engagement or anniversary ring.
Shop for Three Stone Rings
Solitaire Rings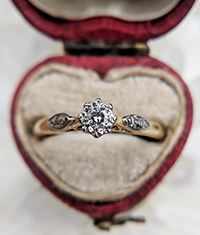 While the tradition of presenting a ring to the one you love is not a recent one, diamond solitaires presented as engagement rings are a modern development. They became popular in our culture thanks to some incredibly clever marketing by De Beers in the 1930s. So clever was that marketing, we are inclined to believe that diamond solitaires have always been part and parcel of a proposal!
Solitaire rings are not limited to diamonds; rubies, sapphires, opals and turquoise remain popular alternatives. The beauty in solitaire rings is their simplicity – the eye is drawn to the stone alone. That's why size, colour and clarity remain important purchasing considerations.
Shop for Solitaire Rings
Bypass & Crossover Rings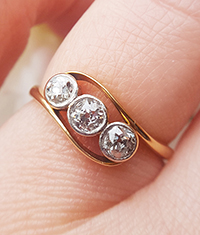 Bypass rings rose to popularity in the 1800s and have remained a firm favourite in jewellers windows and on ladies' fingers ever since. They feature overlapping bands to signify the coming together of two souls. Inside those bands may sit a single diamond, three diamonds or five diamonds. In fact, bypass bands can hold a variety of stones in a variety of cuts – we've seen examples of them all. Bypass bands make for wonderfully romantic rings and are a pleasure to wear.
Shop for Bypass Rings
Navette & Marquise Rings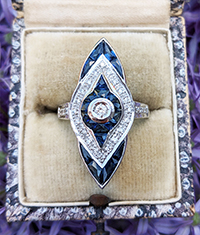 The marquise: shaped the first time to resemble the smile of King Louis XV's mistress, the Marquise of Pompadour. Also known as the Navette cut. A popular gemstone cut and ring shape since those very old days of French romance and intrigue. Due to its shape, the marquise or navette ring will really flatter the finger, making it appear longer and thinner.
Shop for Marquise & Navette Rings
Toi et Moi Rings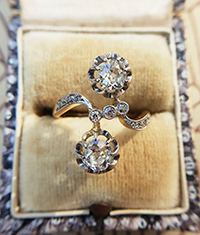 The two stone or Toi et Moi ring – meaning 'you and me' – and possibly the most romantic ring of them all. The stones symbolise two souls side by side and can be diamonds alone, or one diamond with a sapphire, ruby or emerald. Popular throughout history and a particular favourite during the Art Nouveau period, when the two stone design lent itself perfectly to the swirling ornamental style of the period.
Shop for Toi et Moi Rings